The event
The Second Annual Strategies for E-commerce Success Conference is a regional event that focuses on the most important trends and the development in ecommerce and digital retail innovations.

The next revolution in the retail industry is already happening. Instant satisfaction, connected shoppers, switch devices, maintain presence on multiple channels, new generation e-custommers became the ones who dictate the pace.

On the other hand, more and more established retailers are turning online looking for new customers and new ways to innovate and grow. The Annual Strategies for E-commerce Success Conference provides a whole complex of new insight of the Digital Retail and Ecommerce market gives you valuable information on how to grasp the future and be one step ahead of your competitors.
Registration fee
Participation fee: 180 BGN excl. 20% VAT
Deadline for registration
: March 15
You can follow the event on
Facebook
Speakers
Genoveva Petrova Partner, REMIX

Nikolay Piriankov co-founder and CEO, Taylor & Hart

Eva Vucheva Co-Founder and CEO, Contento.tech

Ilian Georgiev Executive Director and member of the Management Board

Spas Slivkov CEO, OLX & Shedd

Vanya Manova Country Manager for Bulgaria and Macedonia at Mastercard

Ognian Lahchev Marketplace Manager, eMAG.bgager

Rein Suijker Executive Director, Ecommerce Foundation

Milen Raikov Partner, Tax and Law, EY Bulgaria

Paul Copil Founder & CEO, Qeops.eu

Paolo Politi International Sales Director - Nielsen Retail Pricing Services

Alexander Kitov Founder, Perpetto

Murry Ivanoff CEO, Metrilo

Monika Miteva Sales & Marketing Manager, DHL Express Bulgaria

Davide Mazzanti CPO at Qixxit

Lyubomir Cholakov General Manager, еCommera Linked by Isobar for Bulgaria

Armando Rodríguez Senior Project Manager, Privalia

Zornitsa Chugreeva CEO, BGmenu
Program
Chairman: Eva Vucheva, Founder, Contento.tech
09:00 – 09:30
Registration and Welcome coffee
09:30 – 09:50
The Future of Shopping
:
How will consumers shop in 2020 and beyond?
Rein Suijker, Executive Editor, Ecommerce Foundation
09:50 – 10:10
E-commerce for FMCG: recent trends, innovative services and Retailers strategies​
Paolo Politi, International Sales Director, Nielsen
10:10 – 10:30
Digital Wins Hearts, Minds and Wallets
Vanya Manova
,
Country Manager for Bulgaria and Macedonia, Mastercard
10:30 – 10:50
Bank Transformers - from Conservative to Open-Minded Approach
Iliyan Georgiev, Executive Director and Board Member, BACB
10:50 – 11:20 Coffee Break
11:20 – 11:40
Marketplace revolution
Ognian Lahchev
,
Marketplace Manager, eMAG.bg
11:40 – 12:00
Scalable Growth in a Digital Factory
Armando Rodríguez, Senior Project Manager, Privalia
12:00 – 12:20
Speed? What speed? Revenue Growth through Improved Mobile Experience
Lyubomir Cholakov, General Manager, еCommera Linked by Isobar for Bulgaria
12:20 – 12:40
Scaling mass customization
Nikolay Piriankov, CEO & Co-Founder на Taylor & Hart
12:40 – 13:00
How to use classifieds platforms to boost up sales
Spas Slivkov,
CEO, OLX & Shedd
13:00 – 14:00 Lunch Break
14:00 – 14:20
Future technologies for online food delivery services
Zornitsa Chugreeva, CEO, BGmenu
14:20 – 14:40
The modern approach to e-commerce
Genoveva Petrova, Partner, Remix
14:40 – 15:00
Tax challenges facing e-commerce
Milen Raikov, Partner, Tax and Law, EY Bulgaria
15:00 – 15:20
The 21st Century Trade Revolution
Monika Miteva, Sales & Marketing Manager, DHL Express Bulgaria
15:20 - 15:40 Coffee Break
15:40 – 16:00

A meaningful Mobile experience that converts better than desktop
Davide Mazzanti, CPO at Qixxit
16:00 – 16:20
Logistics in e-commerce - facts and trends
Paul Copil, Founder & CEO, Qeops.eu
16:20 - 17:00
Discussion
Chairman: Eva Vucheva, Founder, Contento.tech
Shopping has gone personal: tools and processes for more buying customers
Example in Sports and Fashion Personalisation
Alexander Kitov, Founder, Perpetto
Davide Mazzanti, CPO, Qixxit
Murry Ivanoff, CEO at Metrilo
Partners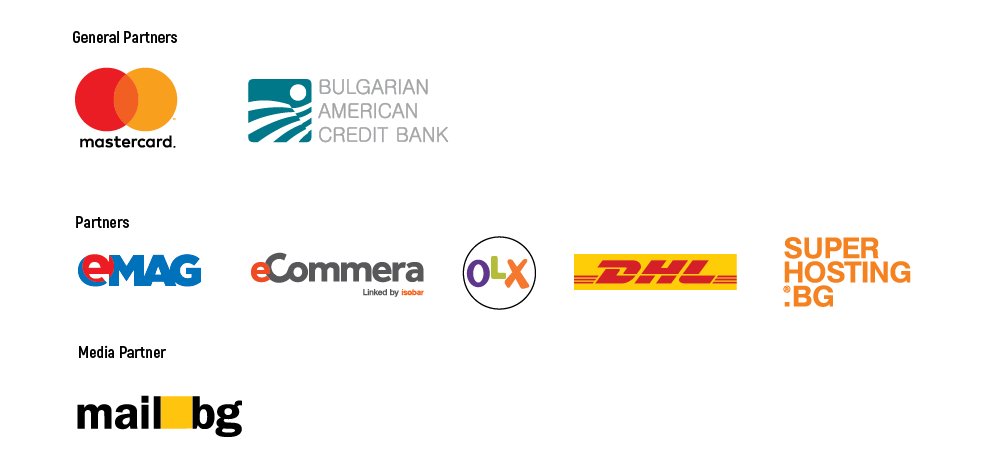 Contacts
Contact us for any questions about Economedia's events