The event
The Big Questions for 2018
Will Bulgaria achieve sustainable growth while losing human capital?
How can the Bulgarian economy be more attractive to those working abroad?
Although the Bulgarian economy has continued to register sustainable growth in recent months, businesses are faced up with a serious challenge that has a strong potential to curb future growth — a shortage of people.
This lack of available human resources has been felt by a continually growing number of sectors of the economy. The huge number of Bulgarians who emigrated in the last 15 years has left a gaping hole on the labour market — a problem further exacerbated by the continually deteriorating demographic situation and non-competitive education in the country.
Without being able to hire workers and employees, companies will be forced to put their investments on hold and curb future plans for expansion and growth. Today, talent hunting plays out on a truly global scale and can put a spoke in the wheels of further economic growth.
By way of tradition, the annual meeting of businesses and the government will bring together key government officials and the owners of the largest companies in Bulgaria.
They will have an opportunity to discuss both government policies and the business strategies that can help reverse this negative trend.
The meeting will take place at the beginning of the Bulgarian Presidency of the Council of the European Union — an opportune moment for Bulgaria putting forth proposals for amending Community regulations and policies in order to safeguard its interest.
When and where:
January 30, Sofia Hotel Balkan
Deadline for registration:
January 26

Participation fee:
360 euro incl. 20% VAT
Representatives of the
m
edia can access the event with preliminary registration only.
For more information, please contact us at office@janev-janev.com
Program
Draft Agenda

08:45 – 09:30 Registration and Welcome Coffee
09:30 - 09:35 Official Opening
Theodore Zahov,
Publisher and Chairman of the Board of Directors, Economedia
09:35 - 11:15 First Discussion Panel
Direct questions. Concrete Answers
H.E. Rumen Radev
, President of the Republic of Bulgaria
What Can the Government Do to Retain and Develop Human Capital
The Cabinet's Economic Strategy and Priority European Policies
Boyko Borissov
, Prime Minister of the Republic of Bulgaria
Is Bulgaria Able to Escape the Eastern European Trap of Low Incomes
Ivan Krastev
, Chairman, Centre for Liberal Strategies, Researcher, Institute of Humanities and Social Sciences in Vienna, Founder and member, European Council on Foreign Relations
How Long Will the European Economy Grow and the Outlook for Bulgaria
Guntram Wolff
, Director, Bruegel
The Effects of Bulgaria's Efforts to Join the Eurozone
Vladislav Goranov
, Minister of Finance
Dimitar Radev
, Governor, Bulgarian National Bank (BNB)
Moderators: Theodore Zahov, Publisher and Chairman of the Board of Directors, Economedia
Alexei Lazarov, Managing Editor, Capital
11:15 - 11:45 Networking Coffee Break
11:45 - 12:00 Intro
Who, How Many, Where?
Presenting the data from a joint study of Capital and Colliers International on the loss of human capital in recent years - how big is the problem, what are the effects on the economy and what state policies can solve it
Mark Robinson
, CEE Research Specialist, Colliers International
12:00 - 13:10 Second Discussion Panel
Will Bulgaria Achieve Sustainable Growth while Losing Human Capital?
How Can the Bulgarian Economy be More Attractive to Those Working Abroad?
Tomislav Donchev,
Deputy Prime Minister of the Republic of Bulgaria
Biser Petkov
, Minister of Labor and Social Policy
Dietmar Dumlich
, Head of Division Bulgaria, Romania and Turkey, European Investment Bank (EIB)
Xavier Marcenac,
Vice-Chairman of the Board of Directors, TELUS International Europe
Shaun Bosch,
General Manager, ALC
Moderator: Ognyan Georgiev, Editor, Capital
13:10 - 13:30 Closing Keynote Speech
Rosen Plevneliev
, President of the Republic of Bulgaria (2012-2017)
13:30 Networking Lunch

Partners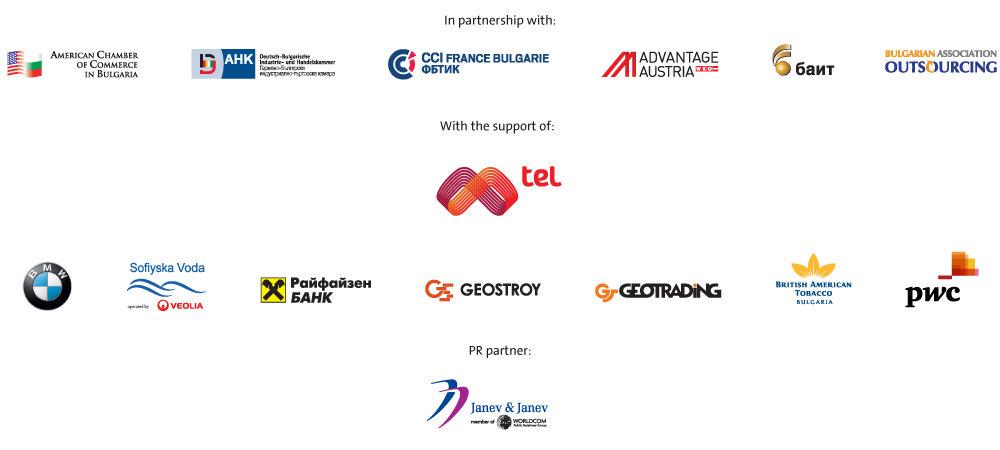 Contacts
Contact us for any questions about Economedia's events